Accessorize your Little Wonder Optimax Blower with wheels, brakes, and tool holders.
Optimax Blower Accessories
Parking Brake
Secure transport and reduce roll-offs with the Little Wonder parking brake. The optional parking brake attaches to the main deck of the blower and secures BOTH wheels – enhancing stability on hills and in the back of a truck. It is easily engaged and disengaged by foot.
Solid Front Wheel
Adds durability, which is of particular importance when the blower is used over tough and abrasive applications. The optional solid wheel attaches quickly using the hardware already available on the Optimax blowers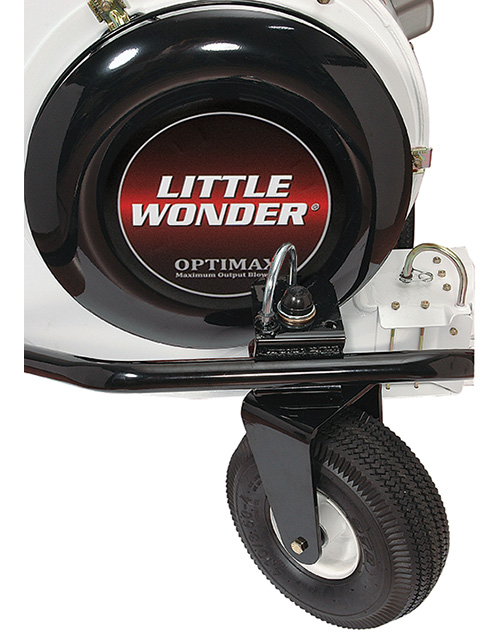 Swivel Wheel Kit
Optional, easy to install, Swivel Wheel Kit for 360º turning and control. Wheel can also lock into a straight position. Minimizes wear and tear on tires.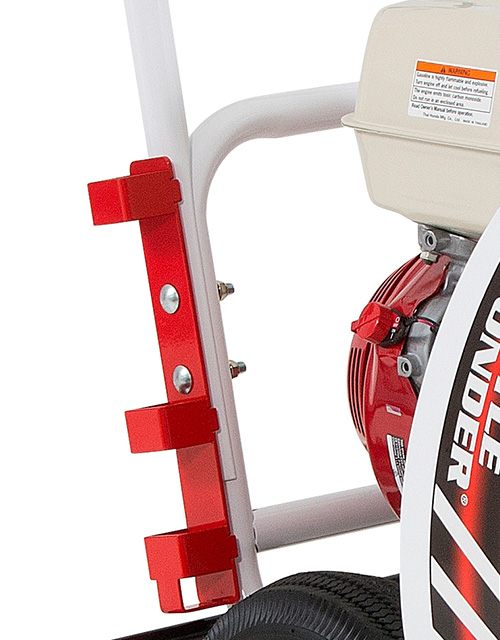 Tool Holder
The optional tool holder attaches to either side of a blower and can hold either a shovel or a broom. Two tool holders can be added for maximum productivity.
Optimax Blower Accessories Specifications
Unless otherwise noted in the table below, the blower accessories are compatible with all Optimax blowers.
| | Parking Brake | Solid Front Wheel | Swivel Wheel | Tool Holder |
| --- | --- | --- | --- | --- |
| Part No. | 417094 | 4173815 | 9050-00-01 | 4174355 |
| Weight, lbs (kg) | 6 (2.72) | 10 (4.5) | 15 (6.8) | 2 (0.9) |
| Material | Steel | Rubber | Steel | 12-guage Steel |
| Finish Color / Style | Black / Powder Coat | NA | Black / Powder Coat | Red / Powder Coat |
| Length (OR Diameter), in (cm) | 10.5 (26.7) | 10.5 | NA | NA |
| Adjustment | Dual Action Spring; Foot positioning | NA | NA | NA |
| Wheel bearing | NA | Pressed-fit Ball Bearing | NA | NA |
| Not Compatible With | Self-Propelled blowers; 9160 blowers | NA | 9570-04-01, 9570-14-01 | NA |