Little Wonder AgVac
Mucking Stables and Pens Made Faster and Efficient
A faster way to muck out stalls and livestock pens!
The Little Wonder agricultural vacuums waste into a self-contained debris loader.
Compact size is designed for mucking barns, coops, and pens in aisles as narrow as 6 feet.
Dual-hose manifold lets two stable hands work simultaneously.
Fixed dump bed angle lets gravity help offload waste and bedding into the manure pile or dumpsite.
Monstrous power makes cleaning equine and livestock barns and stalls easier.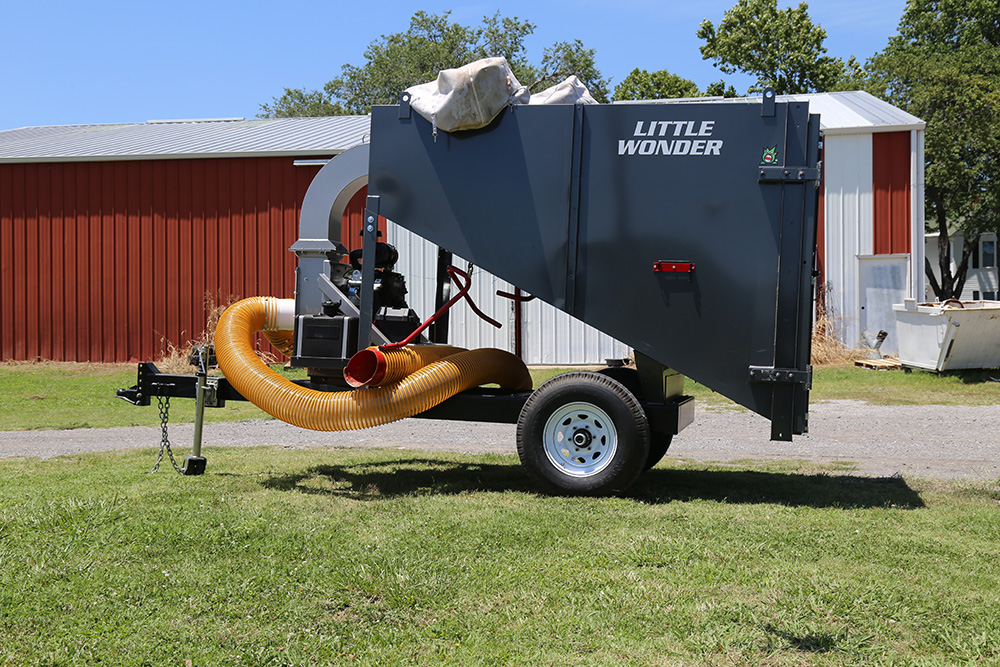 ---
AgVac 5S Agricultural Vacuum Features
14" housing manifold accommodates dual hoses and increased productivity, clearing more waste in less time
Dual 15' hoses feature anti-friction, anti-clog smooth-bore interiors, for uninterrupted work
5-yard capacity
Top-vented with felt bags for increased filtration
Square stack for superior airflow; virtually eliminates clogging that round stacks allow
65° Fixed dump bed angle allows gravity to help offload materials
Barn-style double rear doors with sidewall door latches secure doors when open for offloading
Little Wonder AgVac specifications
| Model No. |  82965-04AVS |
| --- | --- |
| Engine |  Briggs & Stratton Vanguard |
| Engine Power |  29HP |
| Fuel Capacity, gal (l)  / Fuel Type |  6 (22.7) / Gasoline |
| Emissions Compliance |  EVAP/49-state |
| Hitch Class Requirements (min) |  Class III |
| Hitch Type, in (cm) |  Ball Coupler |
| Starter |  Electric |
| Impeller Mount / Drive |  Taper Lock Hub / Direct |
| Impeller Diameter, in (cm)  / Type |  19.75 (50.2) / Straight  |
| Impeller Blades, in (cm) |  6 (15.2) |
| Housing Liners, in (mm) |  1/4 (6.4) Steel |
| Housing Manifold, in (cm) |  14 (35.6) |
| Dual Intake Hose Diameter, in (cm)  x Length, ft (m) |  8 (20.3) x 15 (4.6) |
| Tire/Wheel |  ST225/75 |
| Filter Bags | 2 |
| Container Type |  5-Yard Gravity Dump Trailer |
| Container Dimensions L x W x H, ft (m) |  8 x 5 x 6 (2.4 x 1.5 x 1.8) |
| Container Dump Angle / Type |  65° / Fixed |
| Container Doors |  Double barn doors (rear) with sidewall door latches |
| Assembled Dimensions L x W x H, in (cm) |  173 x 67 x 88 (440 x 170 x 224) |
| Dry Weight, lbs (kg) |  2,210 (1,002) |
| Certified for On-Road Use |  No |