Little Wonder Optimax™ Push Blower
Little Wonder Optimax™ blowers outperform the competition for moving stubborn debris, removing standing water, preparing asphalt or flat roofs for resurfacing, or for any job that requires hurricane-force air! Durable, solid-steel construction… they're built to last
Advanced impeller and aerodynamic design produce the highest airflow in the industry
Unique split-stream air deflector moves piles of leaves farther and faster; without blow-back!
Large, square discharge chute is low to the ground for better blowing power
Scrolled housing ensures consistent, constant airflow even if partially blocked by leaves
Continuously welded all-steel impeller and housing for strength and durability you can rely on season after season
Remote discharge chute control on the handle at your fingertips
Ergonomic handle design; height adjustable with anti-vibration grip
Transport bracket for convenient tie-down during transport.
Convenient lift handle makes lifting the blower on and off the truck easier.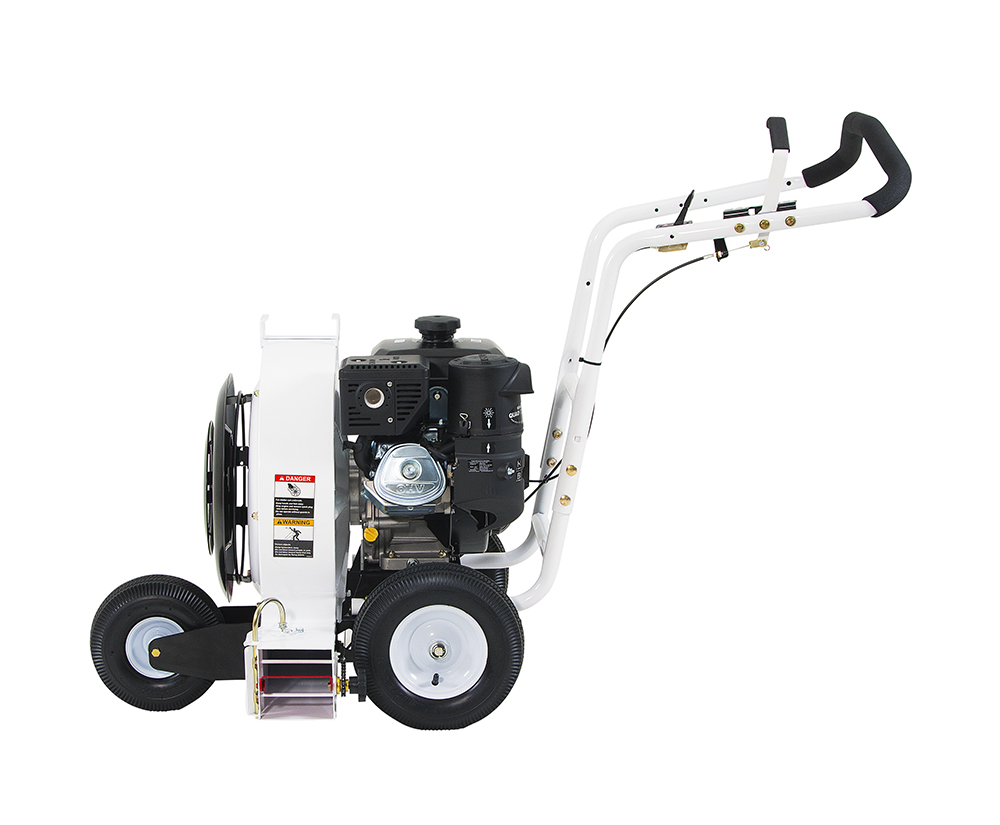 Optimax™ Push Blower Features
Durable, heavy gauge all-steel housing for strength and durability
Curved aerodynamic inlet draws air in smoothly for constant power and helps avoid clogging even if leaves are sucked in
Integrated front/side discharge allows you to expel the air from the front of the unit or out the side without tools
Split-stream air deflector moves piles of leaves farther and faster without blow-back
Chain/pulley system adjusts the split-stream air deflector from the handle position
2-position adjustable handle
One-piece engine deck
Steel impeller with reverse angle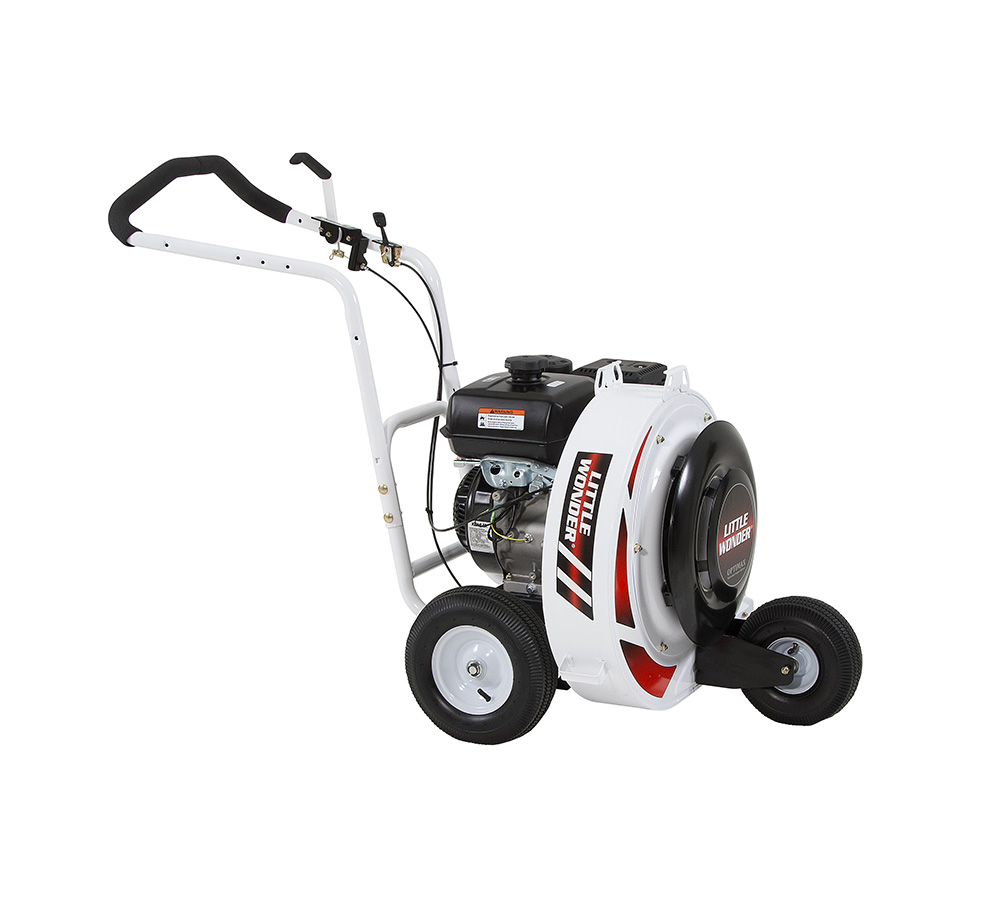 9160 Series Optimax Blowers – Specifications
| Model |  9160-06-01 |
| --- | --- |
| Engine |  Kohler SH265 |
| Displacement (cc) | 196 |
| Fuel Capacity, gal (l) |  0.87 (3.3) |
| Impeller Diameter, in (cm) / # Blades |  17 (43.2) / 7 |
| Air Flow (CFM) | 1,700 |
| Air Speed, mph (km/h) |  190 (305.8) |
| Air Flow Control |  Manual |
| Front Tires, in (cm) |  10 (25.4) Pneumatic |
| Rear Tires, in (cm) |  10 (25.4) Pneumatic |
| Dimensions L x W x H, in (cm) |  56 x 28 x 42 (142 x 71 x 107) |
| Weight, lbs (kg) |  108 (49) |
9270 Series Optimax Blowers – Specifications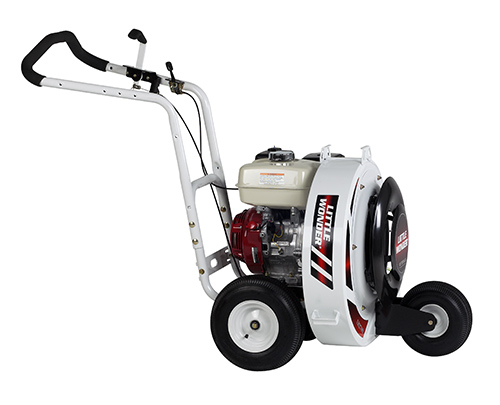 | Model No. |  9270-02-01 |
| --- | --- |
| CE Model No. |  9270-02-59 |
| Engine |  Honda GX270 |
| Displacement (cc) | 270 |
| Fuel Capacity, gal (l) |  1.4 (5.3) |
| Impeller Diameter, in (cm) / # Blades |  17 (43.2) / 7 |
| Air Flow (CFM) | 2,260 |
| Air Speed, mph (km/h) |  143 (230.1) |
| Air Flow Control |  Remote |
| Front Tires, in (cm) |  10 (25.4) Pneumatic |
| Rear Tires, in (cm) |  12 (30.5) Pneumatic |
| Dimensions L x W x H, in (cm) |  58 x 28 x 43 (147 x 71 x 109) |
| Weight, lbs (kg) |  142 (64) |
| Model No. |  9270-06-01 |
| --- | --- |
| | |
| Engine |  Kohler CH395 |
| Displacement (cc) | 277 |
| Fuel Capacity, gal (l) |  1.95 (7.4) |
| Impeller Diameter, in (cm) / # Blades |  17 (43.2) / 7 |
| Air Flow (CFM) | 2,260 |
| Air Speed, mph (km/h) |  143 (230.1) |
| Air Flow Control |  Remote |
| Front Tires, in (cm) |  10 (25.4) Pneumatic |
| Rear Tires, in (cm) |  12 (30.5) Pneumatic |
| Dimensions L x W x H, in (cm) | 58 x 28 x 43 (147 x 71 x 109) |
| Weight, lbs (kg) |  148 (67) |
9390 Series Optimax Blowers – Specifications
| Model No. |  9390-02-01 |
| --- | --- |
| CE Model No. |  9390-02-59 |
| Engine |  Honda GX390 |
| Displacement (cc) | 389 |
| Fuel Capacity, gal (l) |  1.6 (6.1) |
| Impeller Diameter, in (cm) / # Blades |  17 (43.2) / 7 |
| Air Flow (CFM) | 2,530 |
| Air Speed, mph (km/h) |  160 (257.5) |
| Air Flow Control |  Remote |
| Front Tires, in (cm) |  10 (25.4) Pneumatic |
| Rear Tires, in (cm) |  12 (30.5) Pneumatic |
| Dimensions L x W x H, in (cm) | 58 x 28 x 43 (147 x 71 x 109) |
| Weight, lbs (kg) |  174 (79) |
| Model No. |  9390-06-01 |
| --- | --- |
| | |
| Engine |  Kohler CH440 |
| Displacement (cc) | 429 |
| Fuel Capacity, gal (l) |  1.95 (7.4) |
| Impeller Diameter, in (cm) / # Blades |  17 (43.2) / 7 |
| Air Flow (CFM) | 2,530 |
| Air Speed, mph (km/h) |  160 (257.5) |
| Air Flow Control |  Remote |
| Front Tires, in (cm) |  10 (25.4) Pneumatic |
| Rear Tires, in (cm) |  12 (30.5) Pneumatic |
| Dimensions L x W x H, in (cm) |  58 x 28 x 43 (147 x 71 x 109) |
| Weight, lbs (kg) |  174 (79) |
9570 Series Optimax Blowers – Specifications
| Model No. |  9570-04-01 |
| --- | --- |
| Engine |  B & S Vanguard |
| Displacement (cc) | 570 |
| Fuel Capacity, gal (l) |  1.75 (6.7) |
| Impeller Diameter, in (cm) / # Blades |  17 (43.2) / 9 |
| Air Flow (CFM) | 2,850 |
| Air Speed, mph (km/h) |  179 (288.1) |
| Air Flow Control |  Remote |
| Front Tires, in (cm) |  10 (25.4) Pneumatic |
| Rear Tires, in (cm) |  12 (30.5) Pneumatic |
| Dimensions L x W x H, in (cm) | 58 x 28 x 43 (147 x 71 x 109) |
| Weight, lbs (kg) |  188 (85) |