Little Wonder Pro Vac
The Power and Strength to Carry Twice the Load of Other Debris Vacuums
Clears leaves and debris at your pace with the power, performance, and capacity to get the job done.
Superior airflow provides plenty of suction to fill our large capacity bag so you can collect more debris and get the job done quicker
---
Little Wonder Pro Vac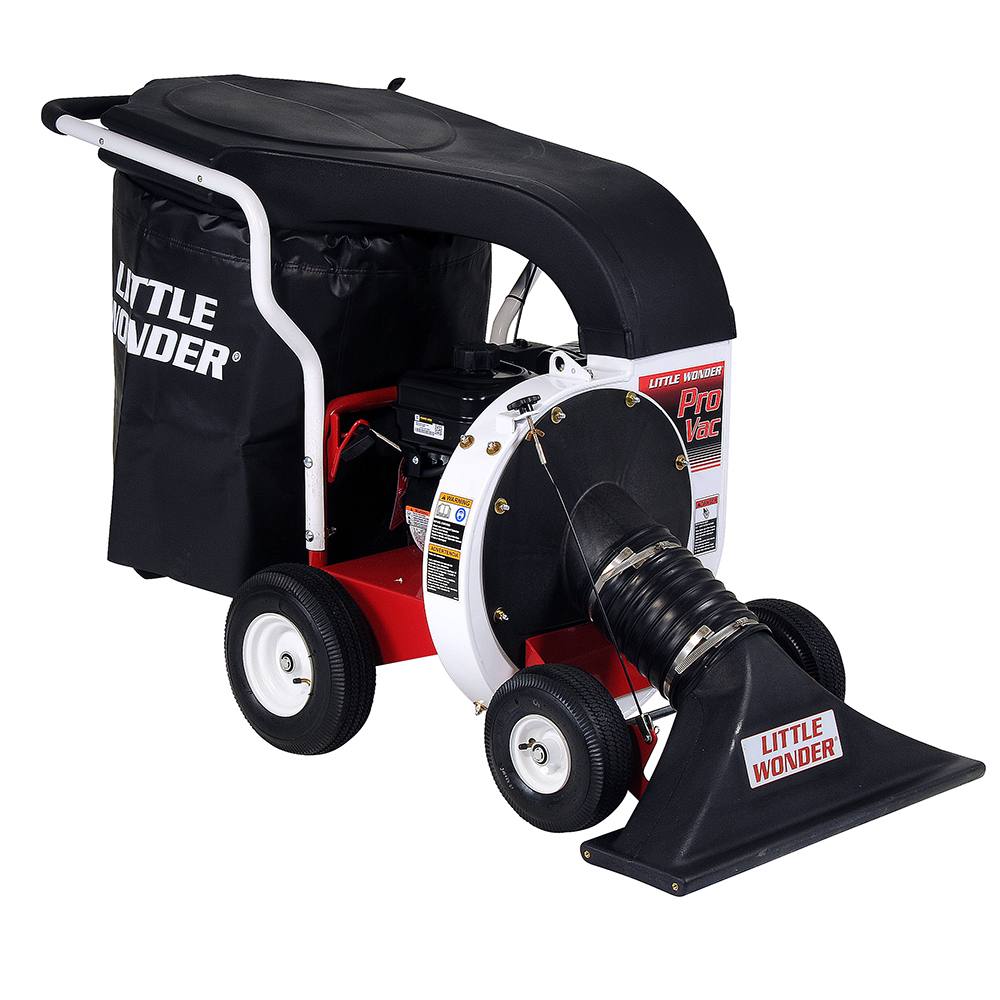 Pro Vac specifications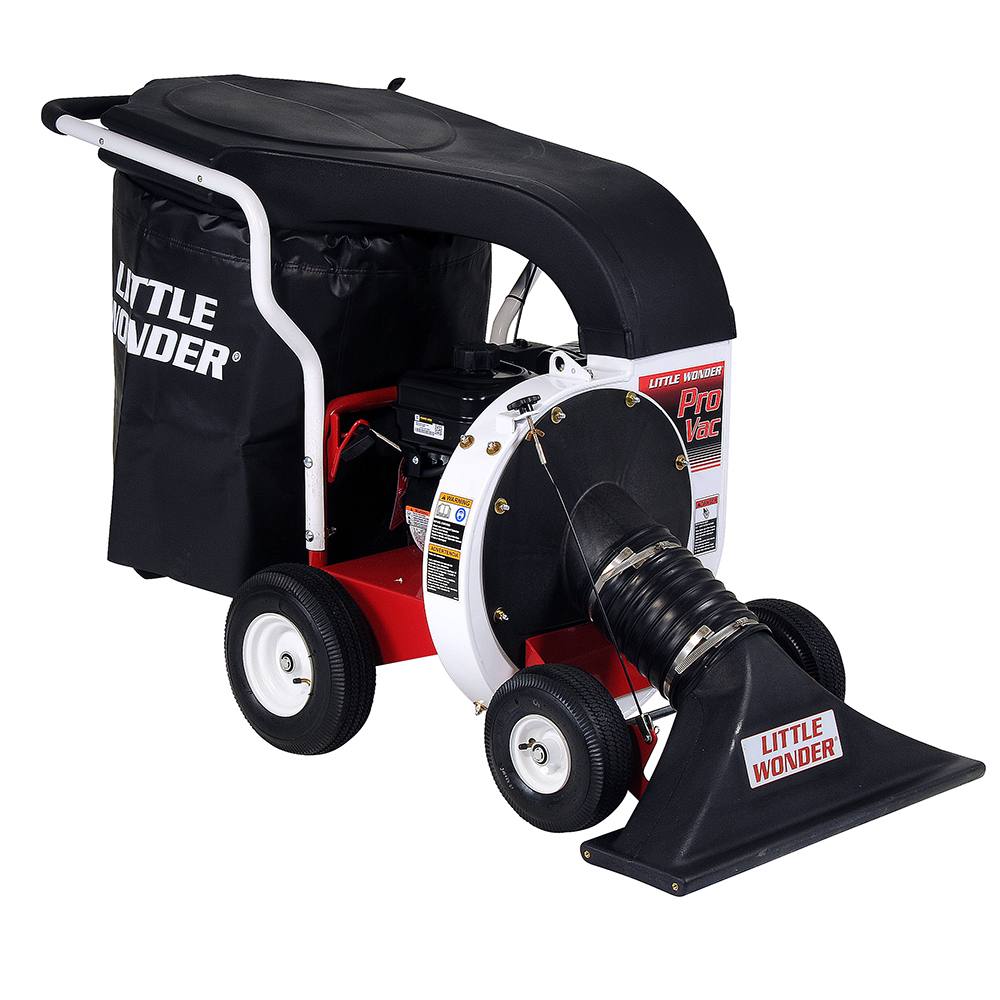 | Model No. |  5612-00-01  |
| --- | --- |
| CE Model No. |  5612-00-59 |
| Engine |  Briggs & Stratton Vanguard |
| Engine Displacement (cc) | 205 |
| Fuel Capacity, qt (l) |  3.4 (3.2) |
| Max Speed Fwd / Rev, mph (km/h) |  N/A |
| Impeller Diameter, in (cm) |  16.75 (42.5) |
| Impeller Thickness, in (cm) & Material |  0.25 (0.64) Steel |
| Impeller Blades / # Cutting Points |  5 (30) |
| Bag Diameter, in (cm) |  26 (66) |
| Bag Capacity, gal (l) |  74.5 (282) |
| Nozzle Width, in (cm) |  29 (73.7) |
| Front Wheels, in (cm) |  10 (25) Pneumatic |
| Rear Wheels, in (cm) |  12 (30) Pneumatic |
| Dimensions L x W x H, in (cm) |  62 x 29 x 40 (157 x 74 x 102) |
| Weight, lbs (kg) |  184 (83.5) |
---
Little wonder Pro Vac SP
Powered to perform. Honda® GX270 engine and worry-free Hydro-Gear® T2 transmission.
Industry-leading speed 30% faster than the nearest competitive unit. Get the job done faster . Up to 4.2 mph forward / up to 1.8 mph reverse.
Industry-leading suction – Top in airflow for the past 20 years.
Biggest, baddest bag (74.47 gal. capacity) handles the big loads.
Breathe easy. When you make products that produce hurricane force winds, you don't just sew in a bag liner, you install a "windshield". Diverts dust to ground level.
Clear line of sight. Get the job done safely. Low 40″ unit height allows for clear visibility over the machine and better view of the front nozzle area.
Operator Comfort. Arched padded handle allow users of any size to find a comfortable operating position.
Maneuverability. Sleek design and rugged front swivel wheels make turning and following curved walkways and driveways effortless.
Nozzle height automatically adjusts – no need to stop the engine and change height settings to avoid 'scalping' and 'digging in' on rough terrain.
Heavy-duty treaded rear drive wheels. Allows excellent traction on both concrete and grass.
Easy free-wheeling. Toe tap dump valve for easy maneuverability when the engine is not engaged.
Pro Vac SP Specifications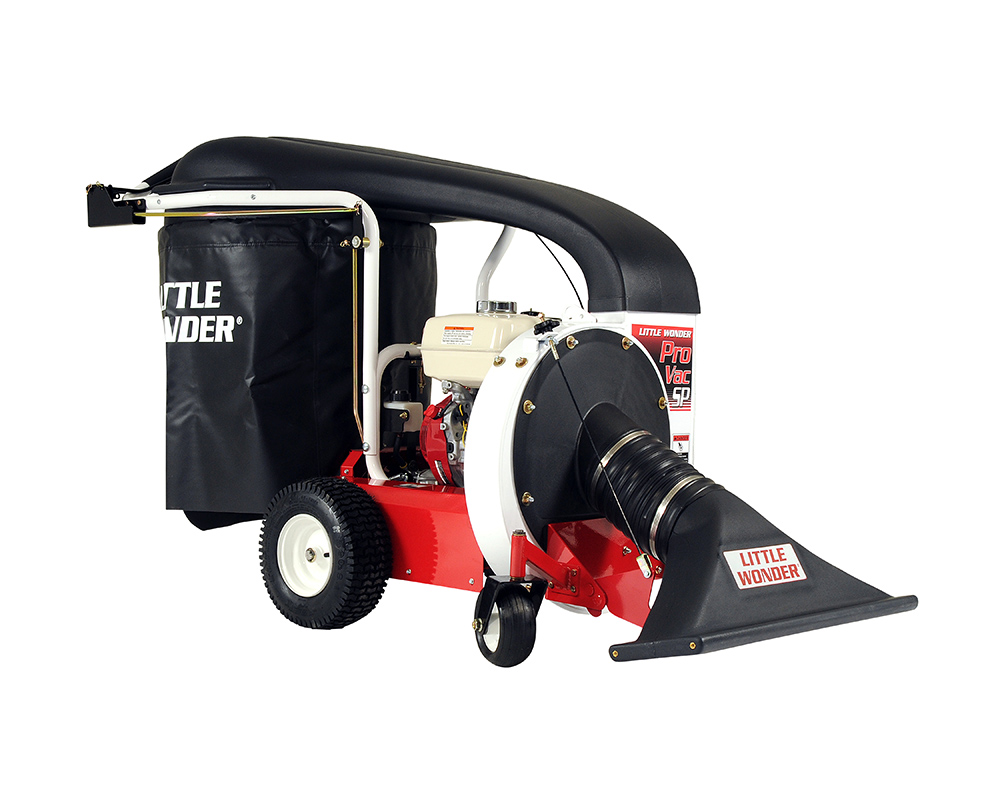 | Model No. | 5612-12-01 |
| --- | --- |
| CE Model No. |  5612-12-59 |
| Engine |  Honda GX270  |
| Engine Displacement (cc) | 270 |
| Fuel Capacity, qt (l) |  6.4 (6.1) |
| Max Speed Fwd / Rev, mph (km/h) |  4.2 (6.7) / 1.8 (2.9) |
| Impeller Diameter, in (cm) |  16.75 (42.5) |
| Impeller Thickness, in (cm) & Material |  0.25 (0.64) Steel |
| Impeller Blades / # Cutting Points |  5 (30) |
| Bag Diameter, in (cm) |  26 (66) |
| Bag Capacity, gal (l) |  74.5 (282) |
| Nozzle Width, in (cm) |  29 (73.7) |
| Front Wheels, in (cm) |  Swivel Casters |
| Rear Wheels, in (cm) |  13 (33) Pneumatic Turf Tread |
| Dimensions L x W x H, in (cm) |  72 x 29 x 40 (183 x 74 x 102) |
| Weight, lbs (kg) |  280 (127) |
---
Pro Vac SI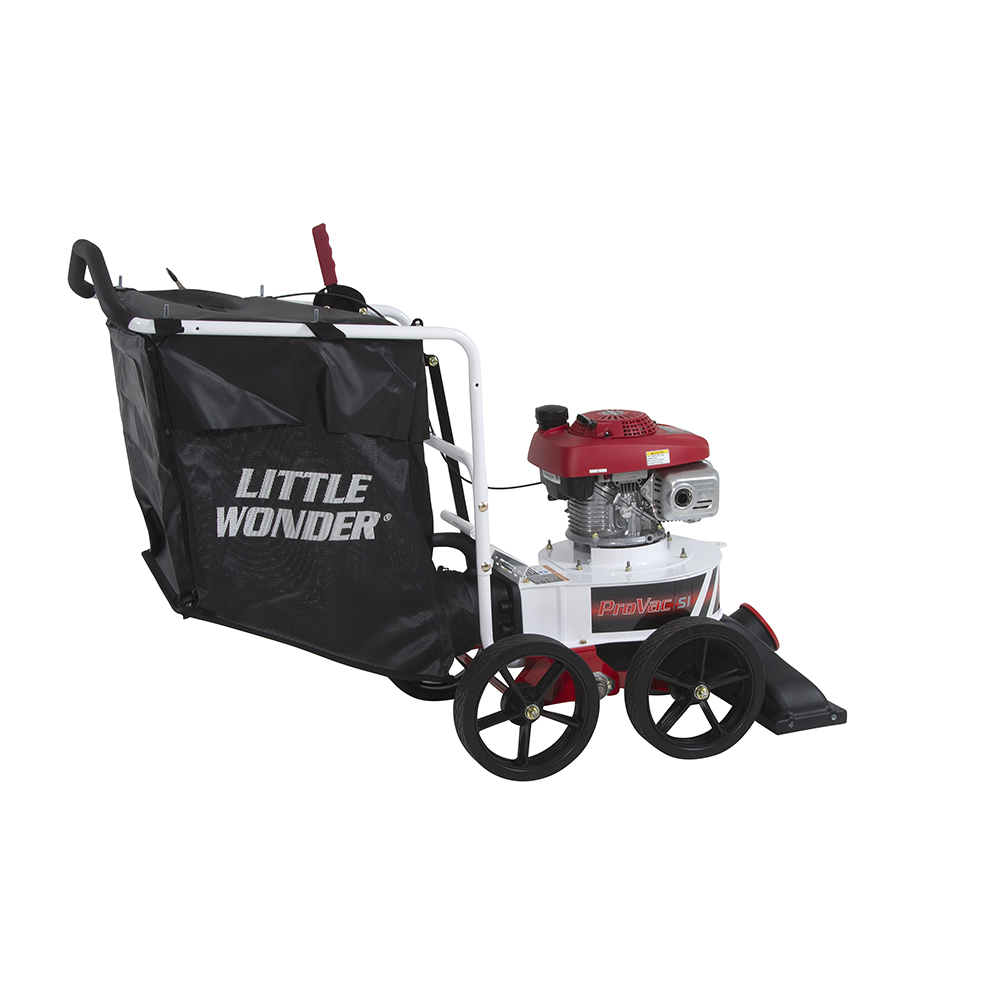 Powered by a Honda® GSV190 engine or Briggs & Stratton® Professional Series™ 850 engine
Serrated impeller shreds debris down at up to a 5:1 ratio
Instant nozzle height adjustment at handle provides seamless turf-to-asphalt transition for faster debris and leaf clean-up
Throated nozzle design increases airspeed, while unique rectangular discharge chute prevents clogging of debris
Optional Intake Hose Kit for cleaning beds and hard to reach areas; sits securely in special contoured pocket that blocks air flow when not in use
Thick gauge, all-welded steel housing with welded studs provides years of service
40 gallon capacity angled no-kick bag with sewn-in plastic bottom prevents wear-and-tear while in- use and when loading and unloading the vac
Pro Vac SI Specifications
| Model No. |  5511-02-01 |  5511-04-01 |
| --- | --- | --- |
| Engine |  Honda GSV190 |  Briggs & Stratton Professional Series 850 |
| Engine Displacement (cc) | 187 | 190 |
| Fuel Capacity, qt (l) |  1 (.09) |  1.04 (0.98) |
| Impeller Diameter, in (cm) |  12 (30.5) Serrated |  12 (30.5) Serrated |
| Impeller Thickness, in (cm) & Material |  0.25 (0.64) Steel  | 0.25 (0.64) Steel |
| Impeller Blades / # Cutting Points |  5 (30) |  5 (30) |
| Bag Material |  Mesh |  Mesh |
| Bag Capacity, gal (l) |  40 (151) |  40 (151) |
| Nozzle Width, in (cm) |  27.5 (69.9) |  27.5 (69.9) |
| Front Wheels, in (cm) |  12 (30.5) rubber tread cap wheels |  12 (30.5) rubber tread cap wheels |
| Rear Wheels, in (cm) |  12 (30.5) rubber tread cap wheels |  12 (30.5) rubber tread cap wheels |
| Dimensions L x W x H, in (cm) |  57 x 27 x 43 (145 x 69 x 109) |  57 x 27 x 43 (145 x 69 x 109) |
| Weight, lbs (kg) |  146 (66) |  146 (66) |