The aerodynamic design of our impeller and scrolled housing was proven to be so effective and advanced it received Patent protection in 1997, and continues to lead the industry in air output today. Little Wonder Optimax Blowers utilize a reverse angled fan blade design that is much different than competitive blowers. This design improves the fan efficiency. Matched with our scrolled housing, the result is Optimax blowers move more air versus other wheeled blowers.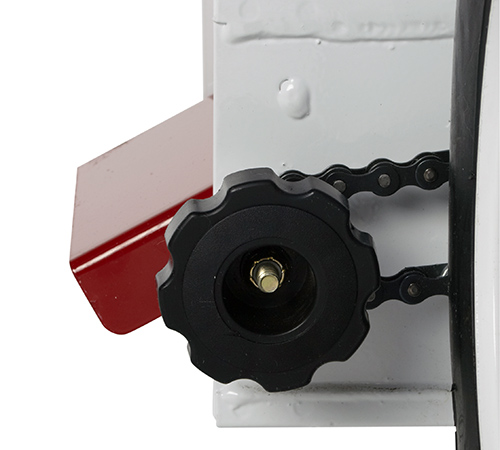 Our Split-Stream Air Deflector splits the airstream allowing you to direct the fastest moving air where you need it for the conditions. Little Wonder blowers have the power to move heavy wet leaves and other dense debris and the finesse to eliminate blow back when moving tall piles of light debris.
Our exclusive Little Wonder blowers' intake, housing and centrifugal impeller design generates as much as four times the volume of air than a backpack model can. That tremendous power is harnessed by the Split-Stream Air deflector that not only directs piles of debris farther and faster than a backpack, but its positioning just above ground level deposits debris where you need it… without the blowback experienced with backpacks. You'll only do the job once.
While relentless on debris, Little Wonder blowers are easy on the operator. The sturdy ergonomic handle design and pneumatic tires make for easy control and less fatigue on the arms and back. Add to that our line of self-propelled models and swivel wheel kit and you further decrease fatigue while increasing productivity. Consider that when working on hilly or uneven terrain.
Backpack blowers have their place, but only Little Wonder wheeled blowers offer the ground-clearing firepower to complete the job with speed and customer satisfaction